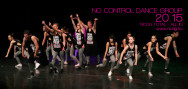 Dunaújváros – Telt ház előtt léptek színpadra május 30-án, szombaton a Violin Művészeti Iskola Táncművészeti ágának növendékei a Bartók Színház nagytermében.
A No Control Dance Group fergeteges műsorral zárta a gálát, a színpadon óriási energiával mutatták be a táncosok a produkcióikat, megmutatva a folyamatos fejlődést! Hangulatos zennékkel, rengeteg mozgásanyaggal és dinamikával prezentálták az urbanus táncstílus legújabb válfajait a legifjabb táncosoktól a már gyakorlott felnőtt korosztályig. Minőségi, nagyszerű vidám és dinamikus műsorhoz nagy gratuláció a csapatnak!
A töretlenül népszerű utcai táncok legizgalmasabbika, a hip-hop szerelmesei töltötték be a színpadot a gála legerősebb részében. S hogy mennyi új mondani és kifejezni valójuk akad a mai fiataloknak, abban Kálmán Károly tanítványai tehetséges partnerek. Az 1998 szeptemberében alakult, No Control Dance Group legújabb, Cleansquad "takarítóbrigádja" most már értjük, miért tarolt a Fejér Megyei Diáknapokon, Balogh Nikolas, Haszon János, Johan Tamás és Somogyi Balázs "brigádtagokkal". Harmadszor is bravó, fiúk!