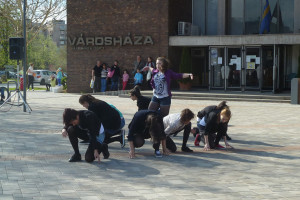 Dunaújváros – Remekül rajzoló, szépen éneklő és jól táncoló általános és középiskolások népesítették be a városháza előtti teret szerda délután. Bemutatkoztak a tehetségek.
A Tehetség hónapja országos akció keretében a helyi tehetségnapon bemutatkozóknak tapsolhattunk tegnap délután a városháza előtt. A mezőfalvi Petőfi Sándor Általános Iskola által szervezett Street Art program két hadszíntérre osztotta a teret. A rajzos csapatok a tavasz témakörét dolgozták fel. A tér központi részén énekesek, táncosok mutatták be sokszínű produkcióikat. A néptánctól a modern táncig, a népdaltól a legújabb slágerekig széles volt a paletta.
Túlzás nélkül állíthatjuk: brillíroztak a dunaújvárosi és a környékbeli általános iskolák, helyi középiskolák és művészeti intézmények diákjai, növendékei. A napsütéses, tavaszias idő sokakat vonzott a térre, hogy lássák és hallják a legjobb zenés-táncos diákprodukciókat. Mintegy 300 gyermek és fiatal csillogtatta meg tehetségét a rendezvényen.
A Dunaújvárosi Tankerület Művészetoktatás Munkaközössége és a Mezőfalvi Petőfi Sándor Általános Iskola, Előkészítő Szakiskola és Alapfokú Művészeti Iskola szerdán rendezte meg a Tehetség napja – Street Art elnevezésű tehetséggondozó programját Dunaújvárosban a városháza előtti téren.
A nagyszabású figyelemfelhívó műsorra idén is sok iskola jelentkezett, ezzel is kifejezve, hogy minden intézményben nagy gondot fordítanak a tehetséggondozásra. A tankerület iskolái, az alapfokú művészeti iskolák, valamint a Dunaújvárosban működő középiskolák és alapítványi intézmények számos énekes, táncos produkciót delegáltak a rendezvényre. A látványos program helyszíneként a szervezők azért választották a Városháza teret, mert azt remélték: a forgalmas helyen fel tudják kelteni az érdeklődést a tehetséggondozás ügyének fontossága iránt. A program nyertes pályázatának köszönhetően a rajzos eszközöket a tankerület és a mezőfalvi iskola biztosította a tanulóknak, és szerény vendéglátással is kedveskedtek a résztvevőknek.
forrás:
Körmendi Erzsébet (DUOL)
Pages: